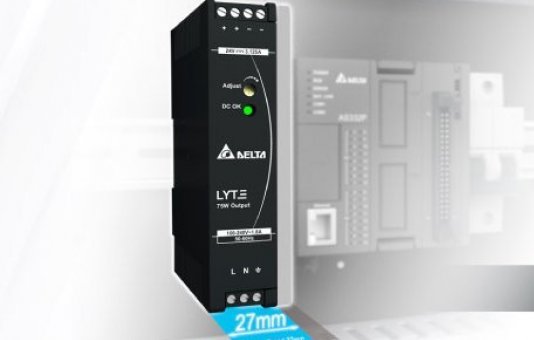 Back to news overview
Delta introduces 75W DIN rail power supply of 27mm wide
28 May 2020
Delta extends its Lyte series power supplies with the slimmest model ever. It's a 75W DIN rail of only 27mm wide which comes with 12V (DRL-12V75W1AZ), 24V (DRL-24V75W1AZ) and 48V (DRL-48V75W1AZ) output voltages. Thanks to its compact design this power supply easily fits into a space-constrained control panel.
It's not just the compact design that stands out
Besides the very competitive pricing, this compact, convection-cooled, Lyte series offers many additional advantages. A high efficiency, reliability and a wide temperature range with full power available from -10 ° C to + 50 ° C (cold start is possible at -30 ° C). In addition, the overcurrent protection is designed to operate in constant current mode, which also makes the product suitable for inductive and capacitive load applications
The 75W Lyte series is certified according to safety standards IEC 60950-1, IEC/EN/UL 62368-1 and IEC 61010-1. In addition, they also meet the EMI approvals to EN 55032 Class B and are fully RoHS compliant for environmental protection.
You will find a complete overview of the features below:
Universal AC input voltage range
Built-in constant current circuit for reactive loads
Up to 90% efficiency
Full power from -10°C to +50°C @ 230Vac with -30°C Cold Start
Compliance to SEMI F47 @ 200Vac
NEC Class 2 / Limited Power Source (LPS) certified (DRL-24V75W1AZ & DRL-48V75W1AZ)
For more information on this latest Delta Lyte series, download the datasheet below or contact our power supply specialists.