Back to brand overview
CONNECTORS FOR THE COMPLETE E-BIKE SYSTEM
Higo is the leading manufacturer of signal, battery, motor, main cable & splitter connectors for E-bikes. Higo is generally considered to be the standard within the E-bike industry because of its ability to supply a complete range of connector solutions for the entire E-bike system. What makes Higo stand out of the crowd is the flexibility that they offer in developing customized e-bike connectors and cable assemblies. Higo connectors combine compact sizes with high currents (up to 25A) and provide the requested water resistance (IP66/IP67) for each e-bike.
PARTNER FOR EUROPEAN E-BIKE COMPANIES
A&C Solutions is the exclusive distributor for Higo connectors within Europe. Many of A&C Solutions' customers, E-bike manufacturers and OEM companies, are continuously developing new e-bike designs, additional features and advanced systems. A&C Solutions is very much involved in each of these projects and provides customers with the right connector solution for their e-bike system.
Battery connector range for 48V systems
With a strong R&D focus and an average time-to-market of only 3-4 months, Higo is by far the E-bike connector pioneer responding quickly to trends and needs in the market. A nice example is the recent design of a complete range of battery connectors with 48V coding.
3000 mating cycles
For the panel mount connector Higo used a spring technology and a phosphor bronze material with a silver over nickel plating for the contacts. Because of this, the connector is now able to handle 3000 mating cycles, hence a serious lifetime extension.
The Higo 624B 48V connector range includes a straight male cable connector, an angled male cable connector and a female panel mount version.
Higo videos
Take a look at the production site of E-bike connector manufacturer Higo
This video allows you to take a look behind the scenes of Higo and shows you the production process of the various E-bike connectors.
Higo projects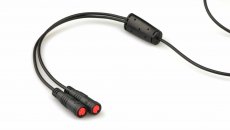 Higo mini-B connector splitter for integration of brake lighting in e-bike system
> Read more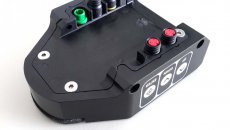 Higo mini B panel mount connector enables smart cable management in e-bikes
> Read more