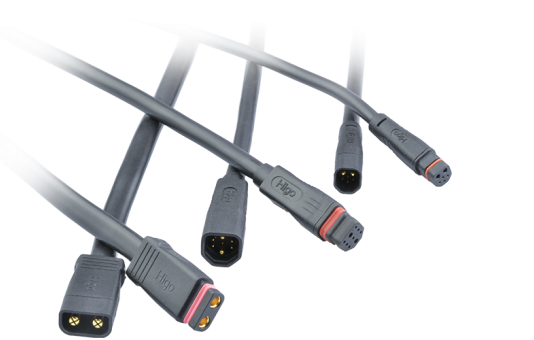 Back to news overview
Higo expands R&D to meet demand for more customized & compact battery connectors
27 September 2019
customized battery connectors
For the majority of the battery market, Higo needs to develop customized connectors. Why? Because there are just too many variables that make up the right connection when it comes to batteries: the required number, combination and type of contacts; the design of the battery, how it's built-up and integrated into the bike; the desired power range and of course whether it's meant for charging or discharging, to name a few. 'Fortunately, Higo is fully accommodated to design any type of customized battery connector. And just recently, its R&D department moved to a new location to respond even quicker to prototype requests and to perform adequate testing', comments Franky Vanlerberghe, CEO of A&C Solutions.
Mainstream charging connectors redesigned
Of course there is also a part of the market that requires mainstream charging connectors up to 15A. It's here that Higo strives to create a flatter, wider shape to achieve more compact, multipole connectors. Examples of such designs are the Z610C and Z913C with diameters of only10 to 13mm', adds Franky.
High-end solution for controller units
'There where we feel we can step up, we challenge ourselves to come up with more professional and reliable solutions', Franky continues. 'The launch of the Z216A plug perfectly fits this context.' The Z216A is a high-end two pin battery connector with IP67 protection especially designed for controller unit manufacturers. It replaces the single pole contacts still often used for these kind of applications.
Check out the technical specs of the new battery connector designs via the links below