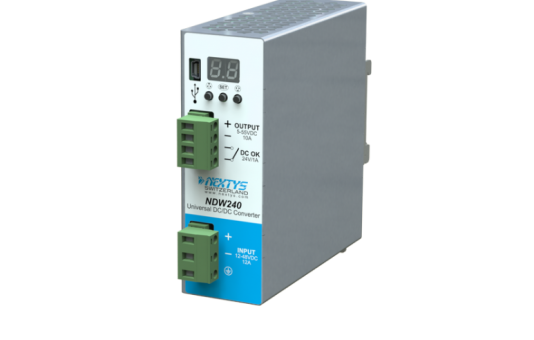 Back to news overview
Nextys launches the first programmable Din-Rail DC/DC converter
01 October 2019
The limitations of traditional DC/DC converters
Most industrial solutions for DC/DC converters are based on an input voltage range and a fixed (or relatively limited) output voltage (such as 12, 24, 48Vdc etc.). This means that there are many different models on the market that provide the necessary supply but have limited functional range and have costs associated with them. This prompted Nextys to develop an innovative new concept.
NEXTYS NDW240: THE MOST INNOVATIVE, VERSATILE DC/DC CONVERTER
Nextys is ready to launch the first programmable DIN rail DC/DC converter on the market, the NDW 240. This is a 240W DC/DC, 3kV isolated DC/DC converter. It is able to convert any direct current voltage from 5 to 55V, with a resolution of 10mV and a load of 240W/max. 10A.
The output voltage can be set via the front panel or a USB interface, operated by Windows or Android using the familiar POWERMASTER application from Nextys. The Nextys NDW240 contains an ORing circuit and various protection devices, and replaces the NDDxx family of traditional DC/DC converters.